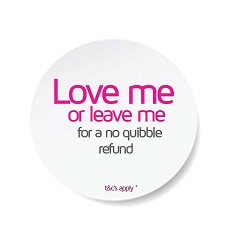 This allows you to predict ovulation and chart when you're the most fertile. Perfect for those couples who are trying to conceive. Not only will this thermometer tell you your temperature, it will also remember it, as this Basal has digital memory recall and a peak temperature indicator. With a large digital display, accurate readings and a replaceable battery, storage case and ovulation charts, this product is perfect when you're trying for a baby.
How does a basal digital thermometer help?
By detecting and tracking subtle changes in basal body temperature both before and after ovulation it's possible for a woman to accurately time when is the best time to try for a baby. It can determine when ovulation has started, and when it has ended.
How does the thermometer work?
This thermometer is designed specifically for fertility charting - as it tests to 2 decimal places allowing you to track smaller increments of change. The thermometer itself is a simple to use Celcius digital thermometer that can be used underneath the armpit, mouth/orally or rectally. It is auto-correcting and reads your temperature in under 2 minutes and automatically gives a beep when your temperature has peaked. It also has a memory recall function, so when you turn on the last temperature record will be displayed briefly. It comes complete with button cell type battery and we can provide replacement batteries if required. The battery life is around 2 years but less if used on a daily basis. The unit should be switched off once the reading is taken but will switch off automatically after 10 minutes if no button is pressed. The thermometer is fully CE approved as are all the items we sell.
When should I take my temperature?
You should take your temperature, orally under the tongue, every morning before you do anything else – even before you get up!! Just the act of getting up increases body temperature so keep the thermometer right by the bed. You should then write down the temperature recorded. The temperature rise (spike) takes place shortly after ovulation and will stay slightly elevated until you start your next period.
Why a Fahrenheit thermometer and why do I need it to be to 2 decimal places?
We supply a Centigrade thermometer & Fahrenheit option because we have found that some women are used to measuring their basal temperature in Centigrade but also in Fahrenheit because it is a smaller increment of measurement and therefore smaller changes. Both will work just fine. The reason for 2 decimal places is also to help identify the time of ovulation more easily. Most thermometers measure to just one decimal place, so on a Centigrade thermometer, it would read 36.9 or 37.2. However, our thermometer will read 36.87 or 37.24 so it makes spotting the time of ovulation easier, especially if you also use ovulation tests.
Why should I keep a Fertility chart?
There is only a very small window within each cycle when your body releases an egg. This window, which may last only 36 hours, is the only time you can get pregnant during that cycle so knowing how to pinpoint the timing when the egg is released can be very important. The chart will help you plot you cycle in a graph using basal body temperature.
| | |
| --- | --- |
| Choose Size | No |
| XL BABY GATE SIZE | No |
| Pick Your Size | No |
| Free Shipping | No |
| Price | €19.99 |
Customer Reviews
Thermometer

Review by Aoife / (Posted on 19/02/2019)

Very reasonable price, exactly what I was looking for. Fast delivery too.

Very fast delivery

Review by Heather / (Posted on 16/02/2018)

The variety that the Nutrition Store offers is really great. It is really nice not to wait long for delivery (next day or so!) will definitely order again.